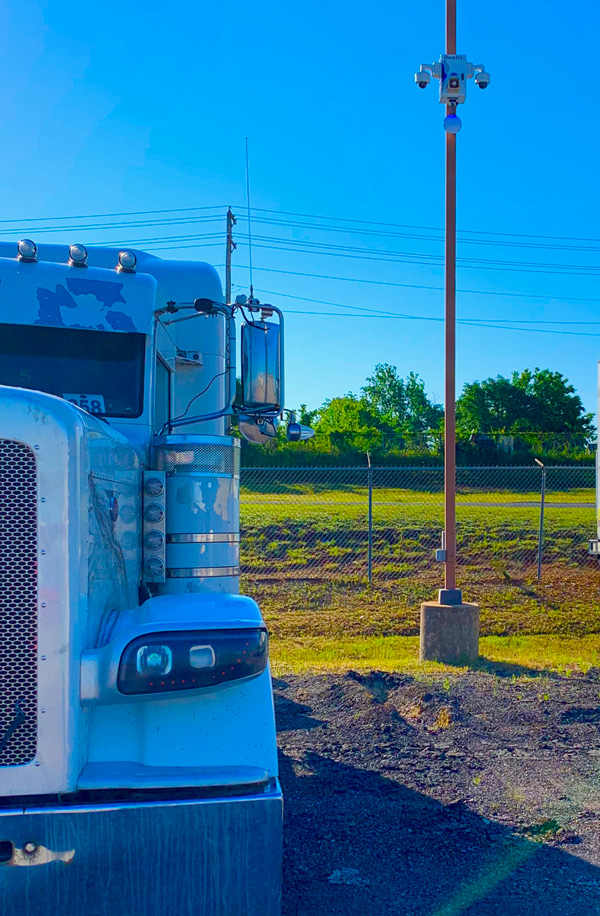 Inet designed the iSentry Micro Pod to provide temporary and permanent remote monitored surveillance for construction sites, automobile lots, large equipment dealers, electrical substations and laydown yards. The iSentry Micro standard features include an outdoor white powder coated metal NEMA 4 enclosure 16" X 10" X 8". It comes with a custom back plate for easy mounting to square or round poles, concept key locking hardware, Fusion blue LED with black housing, blue LED flasher and 15 Watt 120db Siren/Strobe. Internal hardware includes a DIN rail mounted 6 port industrial grade POE+ switch, 48VDC redundant power supply, three-receptacle outlet rated at 15A 125VAC, 12VDC 2.5A power supply and multi-purpose timer.
Communication options include a CAT4 LTE Modem with 4G phantom antennas or a bridged pair of 5 GHz WiFi radios with enhanced surge protection.

Customers can choose any camera configuration to optimize detection in any environment. Standard camera options include (2) iSentry Intelligent Series 4 Megapixel Outdoor Vandal Proof Low Light Day/Night Cameras with 2.8-12mm Auto Focus Lens, Advanced Intelligent Analytics and 128GB SD Card for video storage. The iSentry Micro is the right solution to any security problem.