Steven Ballard founded iNET Security and Surveillance, LLC over 30 years ago. Mr. Ballard's extensive background began with a genuine passion for security. Although he scored near perfect on his Armed Services Aptitude Test, and was given the opportunity for any field, Mr. Ballard chose to be a proud member of the United States Air Force Security Force because of his love for security. Mr. Ballard served in the Philippines during a time of uncertainty in 1986. Later he served his country in the war against terrorism, and was deployed to the Middle East. Mr. Ballard was honorably discharged in 1993, and, without any hesitation, he continued his devotion and opened a security company in a basement office next to the courthouse, sharing one desk.
From those humble beginnings, Mr. Ballard grew his company. Always with a nose for understanding the ever changing climate of crime, Mr. Ballard became known in the security industry as a pioneer. His company is one of the first to manufacture digital video recording systems under the brand name DVSS DVRS before they were readily accepted and widely used in the market. He is adept at seeing the needs of the industry and either improving or creating a solution.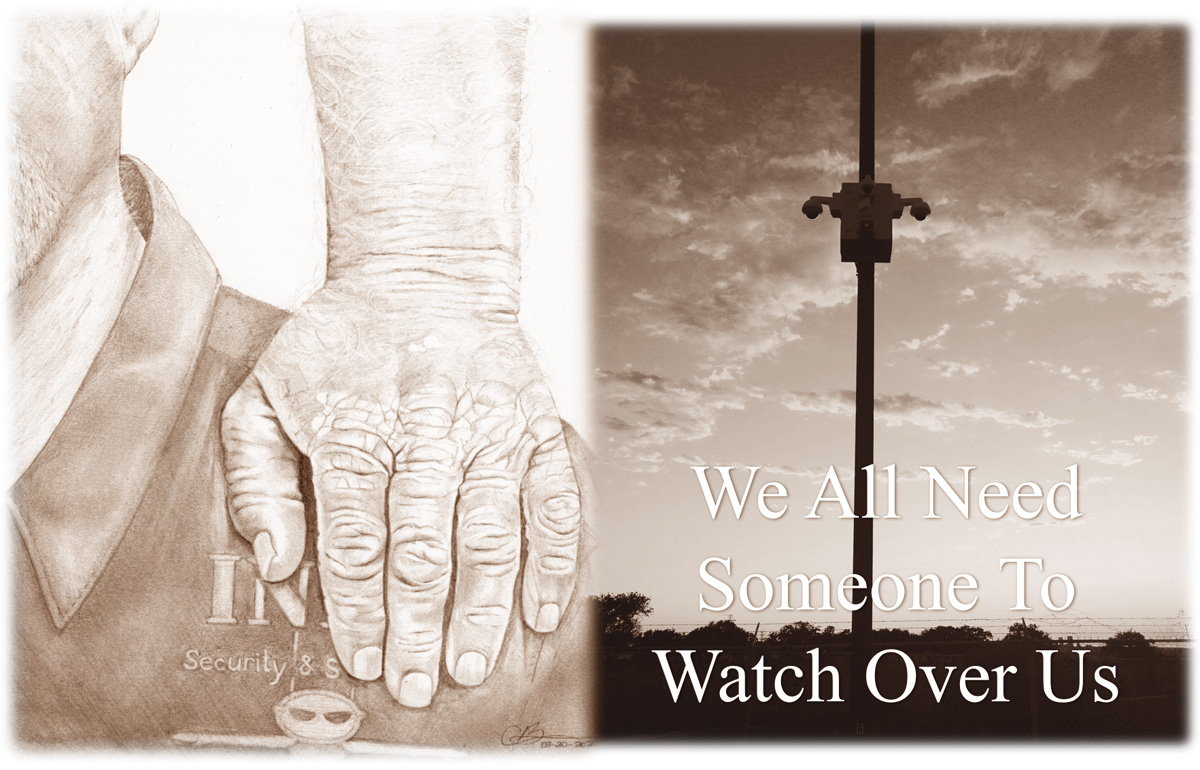 Artist: Cori Ballard- Mr. Ballard's youngest daughter drew this as a tribute to Mr. Ballard's father, who had very distinctive, strong "working" hands. Inet is the company it is today because of the core values Mr. Ballard learned from his father. This beautiful rendering symbolizes our simple message to our clients….
"We're with you."
Recognizing the necessity for effective surveillance and video monitoring stations, Mr. Ballard took on the task of manufacturing better surveillance systems. Instead of the large, heavy, cumbersome steel boxes typically seen, he designed, then manufactured the iSentry Mini Pod, a sleek, small and easy to install unit. With its patented design, the iSentry Mini Pod quickly addressed an increase in large scale thefts and became iNet's best seller.
True to his nature to listen and solve, Mr. Ballard was asked to address numerous issues client's faced. From those problems, a complete line of iSentry products arose and these products are now trusted by city governments, law enforcement, major hospitals, private and publicly held corporations, pipelines, utilities, banks, and much more. In fact, the iSentry Invictus was chosen to serve as part of the anti-terrorism unit by law enforcement. But, Mr. Ballard also understood better designs didn't solve the real problem clients' faced. He immediately realized the true dilemma with surveillance systems was the live monitoring itself. He was aware the largest company who offered live video monitoring outsourced the actual monitoring to India, resulting in poor outcomes. Smaller companies popped up, but monitoring was only performed by one or two people. Client's were ultimately given very little choices in the industry for live video monitoring; they were basically stuck with only bad options. High rates of theft still occurred with companies cloaking themselves in contractual language. Companies were more interested in the revenue from leasing the equipment vs. helping clients protect their assets. People were paying thousands a month to lease substandard equipment, getting bad results from outsourced services, and in the end, got nothing in return.
Seeing the discourse and problem, Mr. Ballard did the "unthinkable." He manufactured surveillance systems using only the best technology and then allowed clients to actually purchase and own the system. Then, he created a video monitoring station to monitor iSentry products. But even the highest quality product will fail if the people behind the lens aren't qualified and properly trained. With this in mind, Mr. Ballard developed a comprehensive and detailed standard operating procedure for his central station. Each operator is not only licensed by the state, each operator undergoes specialized training and continued education. Strict protocols are established for the station, creating a unified team who take "ownership" of a site when they are on watch. Additionally, every action and performance of the team and system are evaluated and reevaluated on a daily basis. Client's are updated, notified and involved. Mr. Ballard appreciated the need for a genuine surveillance system that actually worked. He didn't want a system for only "record keeping purposes"; to give an image after the fact.... He wanted the system to work as intended. He wanted an effective system to prevent, mitigate and/or capture.
Today, iNet's central station monitors live video across the country. The "iNET way" has reduced crime nearly 100% in all sites. One client has gone from 2M a year in stolen assets to 0 for 3 years straight. It's these kinds of results that have earned Mr. Ballard a reputation for being innovative, ingenious in his applications, most importantly, truthful and principled in the way he conducts business. He is hands on and remains completely involved in the products and services he provides.
At iNet, there is no army of salesmen pitching whatever the client wants to hear, there's only genuine care for clients' needs, resulting in the best product and service available. From unmanned, remote video gate access to a comprehensive access control and infant security system for major hospitals, iNet has the ability and drive to solve any client's security problems. Through Mr. Ballard's leadership and business ideals, iNet builds long lasting relationships with their clients.
iNET hopes to build a relationship with you.